San Fernando Lighted Signs
If you want your business to stand out, especially at night, you need to have custom lighted signs.
There are a lot of options available for lighted signs, and fortunately, they can be customized to suit your business's needs. Axe Signs & Wayfinding is a trusted San Fernando, CA sign company known for developing excellent lighted signs for clients who wish to have unique lighted signs that will increase their brand awareness. If you happen to be one of them, work with us!
Our team is always dedicated to providing you with all the assistance you need to get the signs done perfectly to your budget and requirements, helping you with your business goals flawlessly.
Call Axe Signs & Wayfinding at (805) 424-5228 for your Free Consultation with a San Fernando Lighted Sign expert!
Traditional Neon Signs
Traditional neon signs have long been used by businesses that want to let customers know that they are available for business. The problem, however, with using these signs is that they are very hard to maintain, and getting them repaired can be very expensive.
Fortunately, there are now modern alternatives that can replicate the effects of neon signs. We can help you achieve your dream neon signs without having to spend a lot of money in the process.
Lighted LED Signs
A lighted LED sign is a perfect alternative to neon signs because nowadays, LED lights can mimic the effects of neon lights. They are very cheap to use, long-lasting, and do not require constant maintenance. For our lighted LED signs, we can do different applications—from a full lighted LED sign to a backlit LED sign.
Lighted LED signs are perfect for almost any industry with night hours, such as restaurants, clubs, bars, and gas stations. Our LED signs can be customized to fit your requirements, and you can even get them animated if that is your preference.
Indoor Lighted Signs
San Fernando lighted signs can also be used for indoor purposes, such as promoting key areas of your business like the ordering area, pickup stations, and so on. Having these signs can also help provide information to clients and make it easier for them to navigate around the shop.
Our team can customize your lighted signs to suit your requirements and make sure that they blend well with your overall theme.

Programmable Digital Message Centers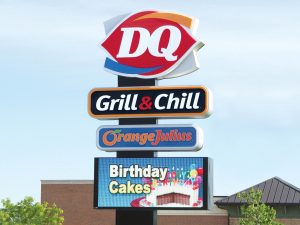 If you want your signs to be high-tech and display all the information you want without problems, we can customize a programmable digital message center for you. These signs can be used on their own or complement your existing signs.
Unlike neon signs, these signs can be customized and upgraded at any time. They can also showcase full graphics in vivid colors, including video.

Full-Service LED Sign Company
At Axe Signs & Wayfinding, we make sure that the San Fernando lighted signs we make are personalized to fit the client's needs. During your free consultation, our team will ask everything there is to know about your business and sign requirements to draft it to your ideal image. We will then manufacture it in-house once the design is approved and even take on installing and maintaining the sign.
As your trusted sign company, we will make sure that you will have a stress-free experience and get only the best signs from us when you need them. We also do other types of business signs and match them all to keep things cohesive.
Free Lighted Sign Consultation
If you're looking for personalized San Fernando lighted signs and support, you won't go wrong with Axe Signs & Wayfinding. Our team is always ready to take on your projects, no matter how big or small your signs may be, ensuring that they will easily help you stand out from your competition.
Call Axe Signs & Wayfinding at (805) 424-5228 for your Free Consultation with a San Fernando Lighted Sign expert!