Thousand Oaks Indoor Signs
View Indoor Sign Gallery
Top-quality, branded, and customer supporting indoor signs, graphics, and full displays have a significant impact on your brand and business. From helping visitors and guests with wayfinding to inspiring your team, your indoor sign and graphic blend keep operations running smoothly.
Discovering the right indoor signs can be challenging. Many factors really should be taken into consideration, including your company sign goals, how customers navigate and utilize your space, any relevant local sign and graphic laws and regulations, and how frequently you plan to change your signage can all have an impact on the number and type of indoor signs you need for a functional workplace.
Your local indoor signage experts, San Fernando Valley Signs & Wraps understands how effective signage can support customer flow, remind staff of safe work habits, and make sure your brand is highlighted throughout. By delivering effective indoor signage elements that are designed specifically for your facilities, company, and desires, our professionals can help you in moving your business to a higher rung.
If your facilities are expanding or moving or you don't know which signs and graphics will help you realize your unique goals, our Thousand Oaks indoor sign experts offer on-site evaluations at your location. This enables us to recommend the right signage so team members and guests can navigate your facilities and immediately locate the departments that they want with minimal employee help and support.
Call San Fernando Valley Signs & Wraps at (805) 424-5228 for your Free Consultation with an Indoor Signs Expert!
Interior Signage For Office Buildings
Office buildings are generally home to any number of businesses or may have numerous offices or divisions for a solitary business. Regardless of the complexity of your location, office facilities are often daunting to find the way through, leaving it up to your secretary to provide wayfinding support to every different client, customer, or guest.
With practical indoor signage products, visitors can find their way through your office space without requiring personal assistance. From office directories to accessibility and ADA signs and graphics, indoor signage is important for supporting intuitive wayfinding in an extensive office complex.
There are a variety of other ways effective indoor signs and graphics can be used for supporting your business and branding goals. Effective wall murals, accessibility signs, vinyl graphics, led signs, and promotional signs can be implemented to display insights about your brand, your company history, and the services you provide. Lots of offices use multiple signage elements to boost their message.
Retail & Restaurant Indoor Signs
We know that restaurant and retail signs and graphics are generally driven by promoting your products rather than reinforcing your brand. That does not mean that your branding doesn't play a major part in your wayfinding and promotional signs and graphics!
San Fernando Valley Signs & Wraps produces appealing floor vinyl, point of purchase signage, department signage, menu boards, ADA signage, and a lot more that highlights your merchandise and applies your fonts, logos, and colors for building brand cohesion in all of your signage elements. Our experts make it very simple for your customers to efficiently navigate your business facilities, finding the areas, departments, and products required to conduct business with you. Our experts specialize in instinctive sign elements, which means that we are familiar with shopper patterns and their expectations for signage, allowing our team to make sure you are achieving or exceeding those expectations within your store.
Signs for Warehouses & Manufacturing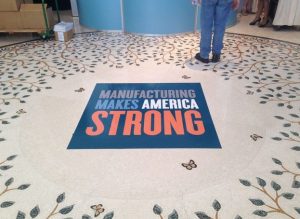 Manufacturers, warehouses, factories, industrial facilities, and other kinds of organizations not commonly open to consumers still require effective and impactful sign and graphic elements. Whether your goal is to boost morale, tell them about safety processes and hazard areas, or explain the story of your brand using vinyl wall graphics, murals, and displays, San Fernando Valley Signs & Wraps creates the perfect custom sign and graphic combination for you.
Wall murals, safety signs, indoor banners, and wayfinding signage all work towards supporting your corporate goals, cutting down on your team's danger of a workplace accident, and developing a workplace that your workforce looks forward to returning to. San Fernando Valley Signs & Wraps is your trusted provider of eye-catching industrial sign elements, providing guidance, support, and assistance, so you can be positive you are getting the most suitable signs.
Cohesive Interior Signs for Business
Properly increasing business and brand visibility demands coherence between all of your marketing and signage elements. Having specified branding guidelines, and referencing them through all promotions and advertising, you won't only generate the essential repeat exposure for your unique brand to be remembered, but can also produce a thorough, polished image of who your organization is. Our experts create branded department signage, directional signage, and lobby signs that will completely match your existing signs and graphics and brand elements.




If you desire design and layout support, our expert graphic design specialists are ready to visualize the most appropriate commercial indoor signs and graphics for your goals.
Every Indoor Sign Your Business Needs!
You can always depend on San Fernando Valley Signs & Wraps to provide engaging commercial interior signs and graphics.
From trade show displays to product displays, our specialists recognize the unique preferences of different niches and different businesses. Our specialists contemplate your corporate objectives, brand guidelines, and physical space and facilities so we can develop the ideal sign and graphic elements for your business.
Whether you desire one wall graphic or a total assortment of retail, restaurant, or office signage, San Fernando Valley Signs & Wraps can make it for your business.
We do what it takes to make sure that your signs are attractive, impactful, and produced using sustainable strategies and products wherever viable.
Our indoor sign services include:
Are you seeking cohesive outdoor signs as well? We deliver those and any other custom signs, wraps, or graphics you desire as well for a complete, customized look throughout!
Full-Service Interior Sign Manufacturers
As your experienced local Thousand Oaks, CA indoor sign company, we oversee every aspect of the sign conceptualization and fabrication process.
From our initial conversation to expert design, manufacturing, and high-quality installation, we have industry professionals to provide assistance during every stage. We work tirelessly to provide you with the right signage components, in the right dimensions, with the perfect design and message, in the best position, for every project.
As dedicated custom signage specialists, we provide on-location evaluations of your custom sign and graphic needs, providing sensible recommendations regarding precisely which sign and graphic elements will be most functional and effective for you. As dedicated sign design specialists, we provide well-designed signage that is easily seen, understood, and taken into consideration.
Our signage fulfillment professionals ensure every piece of your signage project is developed to your specifications, and that everything works collectively as projected. We are exacting when it comes to our standards for quality for your complete approval and continued satisfaction. Our talented sign installers are fast and efficient, getting the project executed quickly and skillfully.
When you need engaging indoor signs and graphics that are supportive, affordable, attractive, and eye-catching, your local indoor sign specialists at San Fernando Valley Signs & Wraps deliver.
Free Expert Indoor Sign Consultation
San Fernando Valley Signs & Wraps is sure to delight you with our customer and client support, expert design skills, and fantastic sign production. Our reliable, experienced Thousand Oaks interior signage staff is excited to design and fabricate the custom, high-quality indoor signs necessary to effectively assist with wayfinding, product promotion, customer service, or brand recognition.
Call San Fernando Valley Signs & Wraps at (805) 424-5228 for your Free Consultation with an Indoor Signs Specialist!