Oak Park Digital Signs
View Sign Gallery
Want to promote your products, services, and brand to your audience more efficiently? Do you want to catch customers attention while they check out what is on display? If your answer is yes to either one of these questions, you may want to consider getting a digital sign.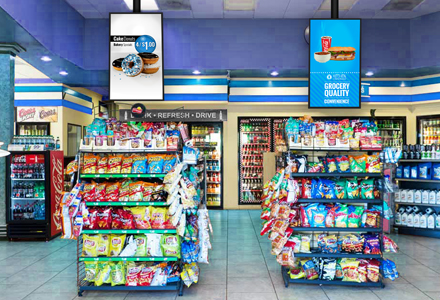 Digital signs can showcase almost anything you want people to know without worrying about replacing the entire sign to match seasonal content. You simply have to program the digital sign using a computer, and it will show the information you want easily.
At San Fernando Valley Signs & Wraps, you can get Oak Park digital signs that showcase both your brand and your message effectively. We are a full-service sign company, making it easier for us to deliver these signs on time and guarantee their quality. Our team can also create digital signs at any budget, opening more opportunities for businesses to enjoy their benefits.
Call San Fernando Valley Signs & Wraps at (805) 424-5228 for your Free Consultation with a Oak Park Digital Sign expert!
Dynamic, Attractive Digital Signs
Digital signs are the perfect solution for businesses looking for an efficient way to promote themselves, build their brand, and showcase what they have to offer in a dynamic way.
With digital signs, businesses and companies can provide clear visuals to share important information with their target audience. Digital signs can display colored text, photos, and videos, and they can be customized to match your brand and business goals.
If you want to know more about your digital sign options, our team at San Fernando Valley Signs & Wraps can guide you through everything you need to know and help you understand their benefits for your business.
Outdoor Digital Displays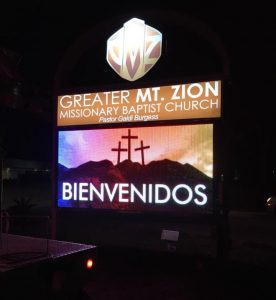 If you want people to know what you are offering even before entering your store, you can catch their attention with outdoor digital displays.
Outdoor digital displays show the public what you are offering in an eye-catching, attractive way. Whether it is daytime or nighttime, your outdoor digital display will show your audience what you've got and inspire them to check it out for themselves.
For outdoor digital signs, we can make LCD, LED, or projection-style displays depending on your preference and needs. We can customize them to your style and install them outside your facility. You can also trust us to handle all the electrical work, legal permits, and maintenance for your sign.
Indoor Digital Displays
Support your outdoor digital displays with cohesive and attractive indoor digital displays.
Indoor digital displays can transform your marketing strategy by allowing customers to view the information you provide them in an interactive way. These displays could showcase music, video, photos, and other formats to make it easier for people to be informed. These displays can be used for restaurants, stores, tourist attractions, and even corporate spaces.
Our sign experts can help you design these indoor digital displays and develop a fun way to deliver information through them. We can determine the key areas of your store or facility where these displays should be placed and create the content they will display. We use environment-friendly, low maintenance, and low-energy digital displays to help you save money while using these displays.
Full-Service Sign Company
When we handle Oak Park digital signs at San Fernando Valley Signs & Wraps, clients can be assured that their signage will be created perfectly to their specifications. We handle every aspect of the sign process in-house to make our work more efficient and keep things within your set budget. It also allows us to guarantee that everything is done perfectly to your standards and there are no imperfections in the final product.
Once you reach out to us, we will sit down with you to discuss everything there is to know about your business and conceptualize the sign design. We can modify the design in case you want changes, and we won't proceed to the next step until the design is perfect. When we have your approval, we will manufacture the signs using the highest quality material and the latest equipment. Our team will also quality-check the signs before handing them over to our installation team.
Our installation team can determine the best locations for your signs to be placed to create the most impact. They will also hook up all the electronics and safely secure the signs in place. We also offer maintenance and repair services to keep your signs working perfectly.
Free Digital Sign Consultation
If you need the best Oak Park, CA sign company to make your digital signs perfect for your needs, we are just a call away. Our team will make your Oak Park digital signs so eye-catching that people will flock to see what you are offering.
Call us today to find out more about our service and let us answer any questions you may have to make your decision easier.
Call San Fernando Valley Signs & Wraps at (805) 424-5228 for your Free Consultation with a Oak Park Digital Sign expert!